Hisanaga Seisakusho Co., Ltd. was established in 1947 and now has 70 years of history behind it. Our proprietary precision metal pressmachining technologies have enabled us to create a wide range of products, most notably of which have been snap fasteners. Today, we manufacture all of our products exclusively in Japan, which has earned us a reputation for quality from customers around the world.
Snap fasteners are a specialized application of highly sophisticated SPD (severe plastic deformation) technologies, one of the most in-demand metal machining technologies in the world today. Hisanaga is also a leader in the development of cyanide-free plating processes which meet the environmental impact requirements of leading global brands. We stand committed to enhancing the technological expertise of our employees and proactively installing the latest equipment so that we can accumulate even more technologies and flexibly respond to the various needs of our customers.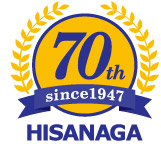 We take pride in the fact that 100% of our products are made in Japan. We plan to continue offering these superior quality products in more markets around the world. The foundation for this expansion will be partnerships that create ties between Japan and the world, between our company and other companies , and between our employees and people around the world. I believe that such strong relationships based on mutual respect represent the key to our future growth and success.
Keiyo Shimizu
Chairman
Hisanaga Seisakusho Co., Ltd.