100% Made in Japan

Today, the snap fastener industry is following the trend of apparel and industrial goods industries as it is moving towards products made in China. Despite this shift, Hisanaga Seisakusho remains steadfast in its commitment to manufacture 100% of its products in Japan. This is because we are fully capable of fulfilling large orders, meeting delivery schedules, reducing lost time, providing prompt responses, and delivering comfortable and superior quality products recognized by customers in more than 50 countries around the world. Even if our prices are slightly higher, we believe that we offer a better cost balance compared to our competitors. This belief is validated from our many years of working with famous overseas brands to meet their snap fastener needs. We will continue to develop and provide useful products to people around the world as a leading manufacturer of apparel accessories. At the same time, we aim to always understand our customers' needs in terms of quality and design as well as continually deliver safe, trustworthy products.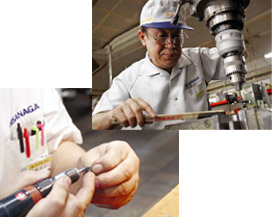 【Countries where our customers are located】
Argentina, Australia, Belgium, Brazil, Chile, China, Cuba, Denmark, France, Germany, Indonesia, India, Iran, Iraq, Israel, Malaysia, Mexico, Netherlands, the Philippines, Portugal, Singapore, South Africa, South Korea, Spain, Sri Lanka, Sweden, Taiwan, Thailand, United Arab Emirates, United Kingdom, and the United States.